ACLU Needs Help Defining Terrorism
According to
this article
in the New York Times, the ACLU is having a little trouble understanding what terrorism is. Here are the relevant excerpts:
The American Civil Liberties Union has rejected $1.15 million from the Ford and Rockefeller foundations, saying their effort to ensure that none of their money inadvertently underwrites terrorism or other unacceptable activities is a threat to civil liberties.

Anthony D. Romero, the A.C.L.U.'s executive director, said the language of the contracts governing the Ford and Rockefeller grants was broad and ambiguous, leaving them open to interpretation that could impede free speech and limit advocacy work not only at his organization but also at other nonprofits...

Ford's grant agreement, which governs the use of the money it gives to more than 4,000 organizations it supports, says, "By signing this grant letter, you agree that your organization will not promote or engage in violence, terrorism, bigotry or the destruction of any state, nor will it make subgrants to any entity that engages in these activities."

In an interview yesterday, Mr. Romero said: "What do they mean by terrorism? What constitutes support for terrorism? We need to know precisely what those words mean. It is certainly appropriate for Ford and Rockefeller to require grantees to comply with existing federal law, but in a climate of fear and intimidation, vague language that goes beyond the legal requirements is regrettable and ill advised."

Let me try to help them out a bit.
Here's
a good link, for starters. In case that's not enough, maybe a few pictures will help.
The bombing of the Sixteenth Street Baptist Church in Birmingham, Alabama in 1963 was terrorism.
The massacre of Israeli athletes at the Munich Olympics in 1972 was terrorism.
The bombing of the U.S. Embassy in Beirut, Lebanon in 1983 was terrorism.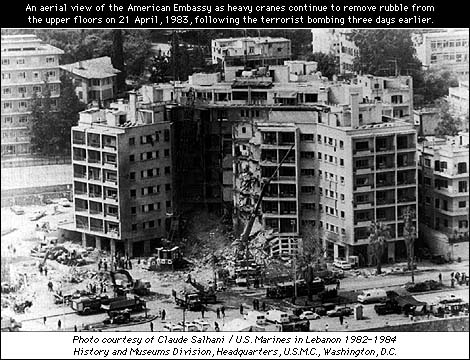 The bombing of the U.S. Marine Corps barracks in Beirut in 1983 was terrorism.
The hijacking of the Achille Lauro off Egypt in 1985 was terrorism.
The bombing of the La Belle discoteque in West Berlin in 1986 was terrorism.
The bombing of Pan Am 103 over Lockerbie, Scotland in 1988 was terrorism.
The bombing of the World Trade Center in 1993 was terrorism.
The bombing of the Alfred E. Murrah building in Oklahoma City in 1995 was terrorism.
The bombing of the Khobar Towers in Saudi Arabia in 1996 was terrorism.
The bombings of the U.S. embassies in Tanzania and Kenya in 1998 were acts of terrorism.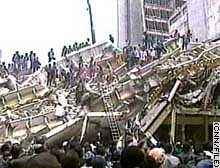 The bombing of the U.S.S. Cole in 2000 was terrorism.
And THIS was terrorism:
If the ACLU has any more questions, I'm sure there are millions of Americans who would be more than willing to help answer them.